Gibbsville Cheese is located in the heart of Sheboygan County, Wisconsin,   with a rich family history of cheese making for over 65 years!  Gibbsville Cheese products are Wisconsin made with only the finest in local ingredients.  Gibbsville Cheese is proud to offer a large variety of cheeses and cheese made products at our factory store as well as through our online store.  We ship across the United States, ensuring you can ship and receive real Wisconsin fresh Gibbsville Cheese at anytime.

Our products include a variety of sized, shaped and priced gift boxes.  Great for any occasion and priced to meet your budget.  Gibbsville also offers a variety of cheese snacks including string cheese, string cheese whips and cheese curds.  Gibbsville rindless cheese come in  several flavors and sizes for your liking.  Visit our store to take some home today, or place an order and have Gibbsville Cheese delivered to your door!  The Gibbsville Cheese Factory and store are located a few miles south of Sheboygan Falls and have been owned and operated by the Van Tatenhove family for over 65 years. Currently the 4th generation of the Van Tatenhove Family is working and operating Gibbsville Cheese.  Over the past 65 years Gibbsville has earned a reputation as a fine producer of Cheddar, Colby, Montery Jack and the famous Gibbsville Two-Tone Cheese. Find Fresh cheese curds every Tuesday after 2PM in our store.
Over the years, Gibbsville Cheese has seen many changes but one thing remains the same, the commitment to making an producing the finest Wisconsin Cheeses.  The factory and store were destroyed by a fire in 1945.  Gibbsville Cheese was rebuilt and reopened in December of that same year.  Since then, the Van Tatenhove Family has worked tirelessly to perfect recipes and processes to provide customers with the best cheese around!
A retail sales outlet adjacent to the factory was opened in the early 1970s and enlarged in 1979. Not only is Gibbsville Cheese known for fine cheeses, but also for the friendly and knowledgeable staff in the "company" store. Along with loyal, local customers, visitors from across the United States stop to purchase factory-fresh cheese sliced from the loaves while they wait. Novelty items such as string cheese, cheese curds, pepper cheese and cheese spreads are also a favorite.  The addition of an online store allows Wisconsin Cheese Lovers the opportunity to purchase and ship fine, fresh, Gibbsville Cheese to family and friends who live outside the Sheboygan Falls area.
Gibbsville Cheese is open Monday through Saturday from 7:30AM through 5PM, closed on Sundays &            all major holidays.
Stop in the store or order online to receive our finest cheeses and outstanding service!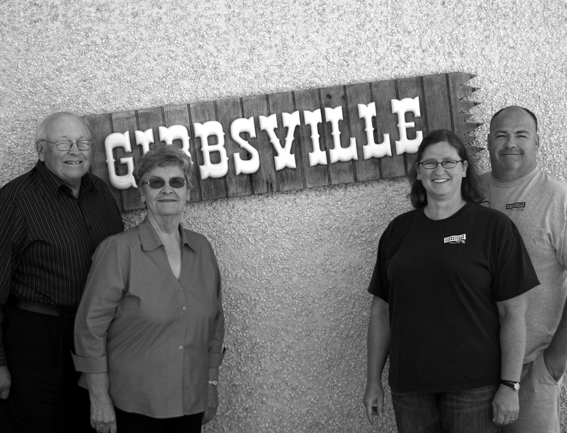 The Van Tatenhove Family, Gibbsville Cheese